Description
Edit
Deadpool will tell you exactly how he's going to use his ninja skills to save the day, but good luck getting him to shut up!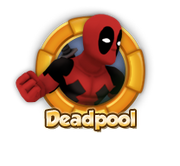 Character Information
Edit
Team: None
Playable: Agent Only
Cost: 3,000 Silver
Voice Actor: Tom Kenny
Fight Style: Melee
Movement: Double Jump, Teleport
Upon Entering: "Hey everybody! Deadpool just showed up!"
Character Select: "Ah, all those other heroes are too ugly. Pick me!"
Using Door: "Okay, I'm outta here. Hey wait a minute!"
Citizen Greeting: "Hello non-player character!"
Eating Pizza: "I'm just glad the pizza isn't all orange and rocky!"
Going in Water: "I'm meltiiing! Wait! No, I'm not. False alarm."
Destroying Trouble-bot: "I'm gonna throw you trouble-bot!"
Chasing Robber: "Hey wait! I just wanted to see what was in the bag!"
Using Hotspot: N/A
Using Wheel: "I wonder if there are any wheels as prizes on the Prize Wheel."
Visiting Shop: "I wonder if there's treasure insid'a here!"
Visiting Parker House: "Wait a minute! You're not my aunt! Ooh, pie! Hello auntie."
Sitting: "Oh baby, I love sitting down! Sitting down is awesome!"
Other (Ice Cream, Cheese, Unable to Lift, etc.): "I bet there's treasure insid'a here!"
Solo Mission: "I'll do a Marvel Team-Up some other time. This is a single-player mission."
Mission with Other Squads: "Oh boy, oh boy! I get to play with others. That always goes really well."
Solo Mission Complete: "Great job everyone! Oh wait, I did it all myself. Great job, myself!"
Mission with Other Squads Complete: "Yeah, we win, we win! Wait, what were we doing again?"
Combo Damage: 12+15+10+37+6+15+6+15=116
Power Attack 1: Slash! Backslash! Slash! -- 1 Star
Slashes swords at an enemy 4 times, 10+10+10+10 Damage & Knockback.

Power Attack 2: Telepooltation -- 2 Stars
Slams mallet into an enemy, dealing 41 Damage & Knockdown.

Power Attack 3: Breaking the Rules -- 3 Stars
Grabs status bar and throws its stars 4 times, dealing 24+24+24+24 Damage.

Hero Up
Throws up and shoots a piñata that explodes surrounding enemies, dealing 100 Damage & Knockdown. 
Special Ability: Healing Factor