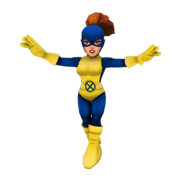 Description:
With psychic powers, Jean Grey always knows what you're thinking and can lift objects with the power of her mind!
Team: X-Men Playable: Yes Cost: 5,000 Silver Voice Actor: Marvel Lore: + 1 Fight Style: Ranged Movement: Flight Combo Damage: 9+12+16+24+42=103 Power 1: Just Dance! -1 Star- 37 Damage and Dance effect to one enemy. Power 2: Brain Freeze -2 Stars- 30 Damage in radius to all and freeze one enemy. Power 3: Mind Eraser -3 Stars- Crushes one enemy for 70 Damage and knockdown. Hero Up: Mind Blast for 66 Damage in radius plus 3+3+3 damage repeated shockwave around Jean. (All Stats for Maxed Hero)
Upon Entering: "Penny for your thoughts!"
Character Select: "I know you're gonna pick me."
Using Door:
"W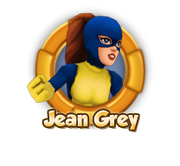 hat's in here?"
Citizen Greeting: "Hi there!"
Eating Pizza: "Everyone's talking about how great this pizza is!" Going in Water: "So refreshing!"
Destroying Trouble-bot: "You don't belong here!"
Chasing Robber: "Oh no you don't! Come back here!"
Using Hotspot: "I love flying!"
Using Wheel: "Can't wait to see what prizes I win today!"
Visiting Shop: "I think I'm gonna get some good deals!"
Visiting Parker House: "Thanks very much ma'am." Sitting: "*sigh* I'll stop for a minute."
Other (Ice Cream, Cheese, Unable to Lift, etc.): "Hey."
Solo Mission: "I can do this without the X-Men."
Mission with Other Squads: "I'm ready to team up!" Mission Complete: "I did it!" Mission Complete with Other Squads: "Hooray! Great job everyone!"
Power 1: "May I have this dance?"
Power 2: "Not so fast!"
Power 3: "This will blow your mind!"
Hero Up: "Psychic shield!"
To Cyclops: "The original X-Men will get the job done, right Cyclops?" To Phoenix: "I don't need the Phoenix Force to fight! I'll show you." To Wolverine (all versions): "Hey Wolverine, let's clean up this city!"