Description
Edit
There's no one in Super Hero City with a better mind for military intelligence than Nick Fury. Good thing he's on your side!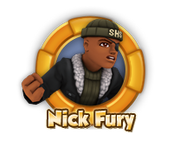 Character Information
Edit
Team: None
Playable: Agents only
Cost: 2,000 silver
Voice Actor: Unknown
Fight Style: Long range
Special Movement: None
Upon Entering: "S.H.I.E.L.D. is on the scene!"
Character Select: "Pick me if you want victory."
Using Door: "I'll be right back."
Citizen Greeting: "Hello citizen."
Eating Pizza: "I love me some pizza!"
Going in Water: "I'm not geared up for underwater tactics."
Destroying Troublebot: "Get outta here!"
Chasing Robber: "Get back here, or I'll call in the big guns!"
Using Wheel: "S.H.I.E.L.D. is commandeering this Prize Wheel!"
Visiting Shop: "Don't worry, I won't use S.H.I.E.L.D. resources."
Sitting: "Time for a break."
Other (Ice Cream, Cheese, Unable to Lift, etc.): "Hmmmm..."
Solo Mission: "I can do this without S.H.I.E.L.D. support!"
Mission with Other Squads: "I won't give orders here. This is a Squad thing."
Mission Complete: "This is Fury requesting evac."
Mission Complete with Other Squads: "This is Fury proceeding to next objective."